Happy World Wildlife Day, people...
March 3rd is celebrated as the World Wildlife Day.
It is the day when the United Nation adopted the Convention on the International Trade in Endangered Species of Wild Fauna and Flora or commonly known as CITES. Have you ever heard or known this Convention before? It has lists of endangered animals, flora and species that have to be protected as they are threathen to be extinc.
My country, Indonesia, is one of the contracting parties along with other 179 countries. We have ratified this convention since 1978.
But instead of a celebration, we have a lot to ponder as sadly, more than 50% of the wildlife population have vanished from earth.
the elephant...taken in the Parc Safari Peaugres, Lyon, France...
On the very day, the United Nations has conducted an informal meeting involving high-level panel such as the UN Deputy Secretary-General, H.E. Mr. Jan Elliasson, as well as the President of the General Assembly, H.E. Mr. Sam Kutesa. We also had Mr. John Scanlon, Secretary-General of CITES, Ms. Chelsea Clintion, the Vice Chair of Clinton Foundation and Ms. Nadya Hutagalung, the Ambassador for the UN Great Apes Survival Partnership (GRASP).
Photo is taken from http://www.cites.org/eng
Lets Get Serious about Wildlife Crime is the theme and needless to say it's very succinctly put and urgently needed.
I want my kids and grand kids to be able to meet this bear as well..the one we saw on Lyon, France..
As Wildlife Crime deters sustainable development, unfortunately, this transnational organized crime has also escalated more and more amidst the increasing demands, corruption and weak government. I won't be surprised to see many still boastfully enjoy the luxury of ivory or rare birds feathers or furs or keep those endangered animals at home as pets for their own selfish life.
Spoken eloquently about the urgent need to #StopWildlifeCrime, the panelists urgently reminded us that concerted efforts still need to be doubled and we all should be on the frontlines for this battle.
Here's the grim reminder that I got from the Facebook page of GRASP
"The illicit trafficking in live great apes is an increasingly serious threat to chimpanzees, gorillas, and bonobos in Africa and orangutans in Asia, with seizures averaging 1.3 per week since 2014. It is estimated that a minimum of 220 chimpanzees, 106 orangutans, 33 bonobos, and 15 gorillas have been lost from the wild over the last 14 months, according to the Great Apes Survival Partnership (GRASP)"
You can get more info and read more as well here.
And I'm so proud that Nadya Hutagalung, a fellow diver and half Indonesian as well as a great TV personality, has become the newly appointed ambassador of GRASP, the UN Great Apes Survival Partnership innitiative.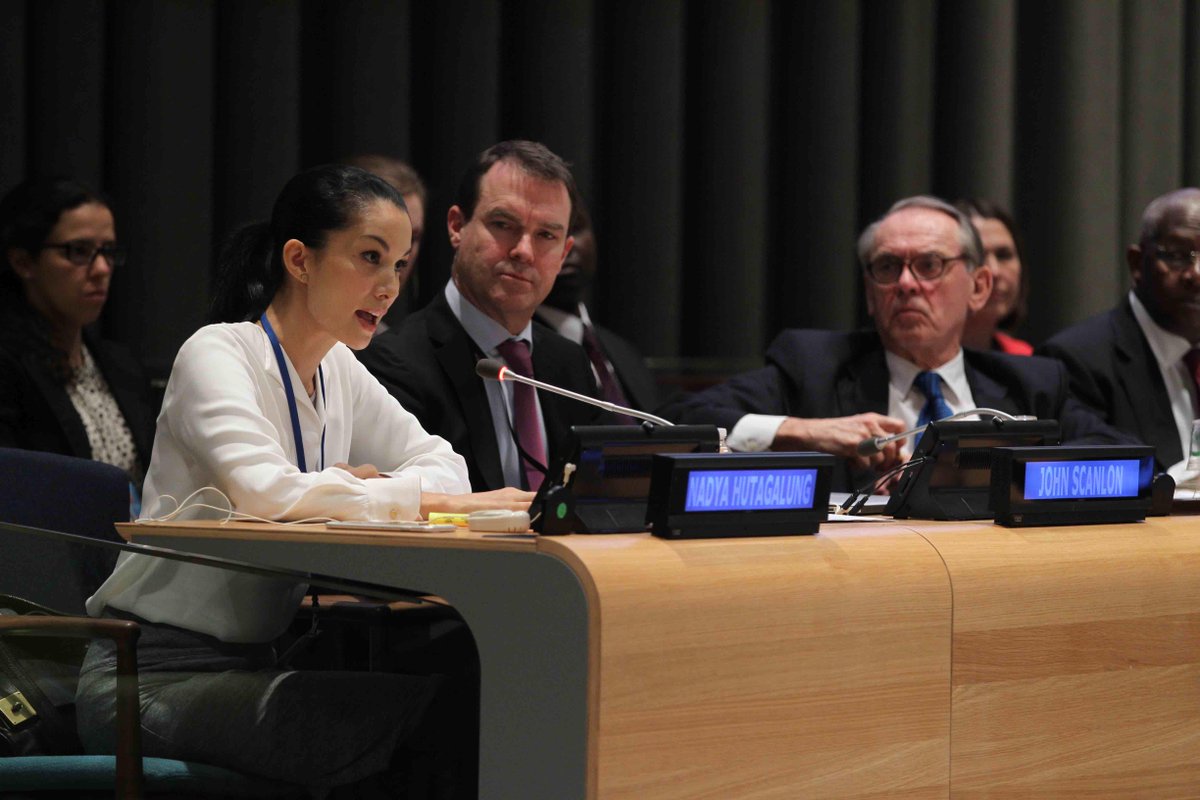 picture taken from https://twitter.com/John_CITES/status/573265488601604096
Well, I have to say, I literally grow up watching her on MTV and she is still one of my favorite VJs :). Smart, super beautiful, highly committed to the wildlife conservation especially elephants and apes. So cool!
I got a chance to meet this wonderful lady when she stopped by at our Mission in NYC. An avid fellow diver, we shared the same concerns over the alarming phenomenon that . How the beauty of our nature and the wonder of the wildlife world are dangerously tampered by our own behaviour. How our kids and the next generation may not get the chance to see those amazing wild flora and fauna we have encountered now. It's pretty sad to discuss how some underwater scenes we have both enjoy may vanish soon if we don't do something about it. Nadya told me as well about the new found species of apes in here homeland, Tapanuli. That's one of the reasons why she agrees to be the ambassador of GRASP and I sincerely hope this initiative will safe more and more great apes that are left, including in my own beautiful Indonesia.
Cheers from the Library at the Indonesian Mission to the UN in NY
After all, we all should be the best protectors of out own wild fauna and flora!
Learn more about GRASP on
http://www.un-grasp.org/
or get the updates from the Facebook page and we can definitely help to conserve all these endangered species.
Happy World Wildlife Day, people..
#seriousaboutwildlifecrime